In Roman times, Erice was a destination for sailors and worshippers of the goddess Venus. The temple priestesses kept a sacred flame alight on a permanent basis, serving as the beacon of the Mediterranean.

The wonderful Chiesa Madre, the luxuriant Balio Gardens, donated to the town by Count Pepoli and the E. Majorana international scientific centre, founded and run by Antonio Zichichi, are just a few of the places visitors should not miss viewing.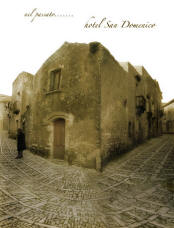 The Hotel born from a wise restructuring of a XIV century building.

7 Rooms for the guests con un ampio cortile where you can drink with your friends, gold places with their natural stones, so to garantee wonderful atmosphere and intimacy in every moment.

A enjoyable place to live your "Relaxing" holiday.